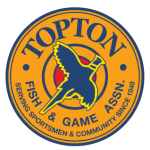 • Download Membership Application
• Contact Cindy Derr, Financial Secretary or call 610-295-4735.
NEW MEMBERSHIP
• New adult membership is $75 (Senior & Senior Citizens, Ages 18+; includes initiation and first year dues.)
• New Junior membership is $5 (Ages 5-17; no initiation fee for Juniors)
• You do NOT need a current member to sponsor you for a new membership.
HOW TO JOIN UP:
1. Fill out an Application (available HERE or at the Club House)
2. Send in your Application & Initial Dues Payment of $75 to the Financial Secretary (address below), or drop it off at the Club House. You may also bring it to a member meeting.
3. Attend at least 1 monthly member meeting (3rd Tuesday of every month at 7:30pm). This is to make sure you are aware of Club rules and policy. New Members will be asked to sign a form that they have read and understand the documents.
4. Your name will be read & voted on at the monthly meeting for 2 months (this can include the meeting you attend).
5. You will receive a new member packet with your range card once these steps are complete.
The Club House is open Sunday from 7am to Noon.
CURRENT MEMBERS
Membership Renewal 2018 year: October 1 through December 31
Anyone who does not renew their membership by December 31 will have to join again as a new member.
Renewal Dues 2018:
• Senior Member (18-59): $35
• Junior Member (5-17): $5
• Senior Citizen (60+): $15 (Available after 1st year of membership)
• Life Membership: $350 (Available after 1st year of membership)

Dues are payable at the club or in the drop box at the club, or by mailing a CHECK and a SELF ADDRESSED STAMPED ENVELOPE to:
Topton Fish and Game Association
Cindy Derr, Financial Secretary
17 East Franklin Street
Apt. 3
Topton, PA 19562
Make checks payable to: Topton Fish and Game Association
---
GUEST PASSES:
Guest passes are available at the club for MEMBERS' use when bringing a guest. Cost is $10 for the day. Three guests per member allowed per day. GUESTS must be with a MEMBER and have a valid GUEST PASS, otherwise it is considered TRESPASSING and you will be PROSECUTED! If a member is caught with a guest & they do not have a valid pass paid for in the box, their membership status will be brought before the board. For more details, call the club 610-682-6902 weekends or 610-295-4735 anytime.