Keystone State Ballistic Challenge


Saturday & Sunday
August 19 & 20, 2017

Sponsored by the Glock Sport Shooting Foundation
Registration at the match or pre-register at www.gssfonline.com
Match director: Lou Ciletti

3 courses of fire requiring a minimum of 100 rounds. Five to Glock: (5 paper targets, shoot it 3 times) Glock 'M': 4 paper targets & 3 steel targets, shoot it 3 times. Glock the Plates: 6 steel plates Bianchi plate rack, shoot it 4 times. No holster required, all courses are stand & shoot. 4 magazines are recommended, you could get by with 3. Bring a minimum of 100 to 125 rounds of ammo per entry.

NOTICE: RO's needed to help run this match.
We need a minimum of 15 Ro's and score keepers each day for the annual Keystone State Ballistic Challenge. We also need setup help on Friday Aug. 18 to set up the courses and tents. All staff help will be eligible to win a Glock in our RO prize drawing. Match RO's should be at the range Saturday morning at 8:00 am to fill out the GSSF RO forms. RO's SHOOTING THE MATCH should pre-register if possible at www.gssfonline.com

If you can work this match, please contact Lou Ciletti.
Thank you for you help.
Boy Scout Troop 230 will be selling food at the match!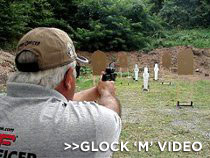 A friendly and family oriented competition match designed to promote competition shooting and safe gun handling. Sponsored by GSSF, this annual match attracts up to 300 entries. Competitors consist of new shooters as well as seasoned shooters & law enforcement. If you own a Glock, come out and have some fun.
RO Guides & Information
Generic RO instructions (pdf)
Chief Range Officer Guide (pdf)
Score Keeper Guide (pdf)
Sign In/Squadding Guide (pdf)
Full RO Guide (pdf)